The most famous sight in Czech republic, Prague Castle is situated deeply in the city center. There are plenty of buildings located in the area of Prague Castle.
Churches:
St. Vitus cathedral
St. George's basilica
St. Cross Chapel
Halls:
Column Hall
Spanish Hall
Rudolph's Galery
Vladislav Hall
Palaces:
Old Royal Palace
Belvedere
Lobkowitz Palace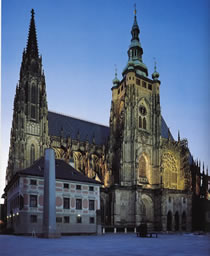 The amount of gardens in this area is quite high, including about 10 different gardens. The most visited one is Deer Moat, you should totally visit this place especially in Summer. That place is quite romantic with many benches. Dont worry about getting hungry. Prague Castle offers many and many restaurants and traffics, where you can buy food/drink or hang out. Thanks to its location there are many of clubs to visit when the sun is falling.
Historic information:
Built in 9th century
Residence of the president
Owned by Czech republic
Romanian/gothic/baroco/renessance style
Rebuilt and repaired many times
Czech Crown jewels are kept there
-